Scholarships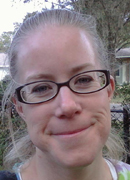 Melissa Kupferberg was a nationally recognized investigator with the Tampa, Florida Federal Public Defender office when she passed away. Only 32 years old, she was a skilled investigator, capital mitigation specialist, and sentencing advocate who had a wonderful ability to relate to and work on behalf of clients. Her Master's Degree in Social Work and considerable experience in both capital and non-capital cases gave her great expertise in understanding and addressing mental health issues. This expertise helped her to develop a rapport with all types of clients, even those with significant mental illnesses or intellectual disabilities.
To honor Melissa, her family has created the Melissa Kupferberg NDIA Scholarship. The goal of the scholarship is to recognize those NDIA members who have followed in Melissa's footsteps, through their client-centered approach to indigent criminal defense, by providing them with funding to attend the NDIA national conference.
Selection Criteria
The scholarship recipient must be a member of NDIA.
The scholarship recipient must have a demonstrated commitment to indigent clients and a client-centered approach to indigent criminal defense.
Preference may be given to applicants who can demonstrate this commitment in one or more of the following areas:
The applicant is involved in sentencing advocacy, a.k.a. sentencing mitigation work on behalf of indigent criminal defendants.
The applicant is involved in alternative sentencing on behalf of indigent clients, including pre-trial release programs, alternatives to incarceration, mental health assistance, substance abuse assistance, and any other program that can impact a client's incarceration.
The applicant is involved in working with clients who have mental health or intellectual disabilities.
The applicant is involved in capital mitigation work.
To apply for a scholarship to an upcoming NDIA conference, read the Melissa Kupferberg Scholarship Application Adobe Acrobat Form thoroughly, complete the form by printing a copy of the form and filling in the appropriate responses.  Once the application is complete, then send it and all supporting documents to:
National Defender Investigators Association
PO Box 169
Kohler, WI 53044
FAX: 866-668-9858
ATTN: BEVERLY DAVIDSON, EXECUTIVE SECRETARY

NDIA Conference Scholarships
The NDIA is committed to providing quality educational opportunities to criminal defense investigators and paralegals.  In furtherance of that goal, the NDIA will provide limited Conference Scholarships to both its National and Regional Conferences.  The NDIA is currently accepting applications to its Conference Assistance Program.
What is the NDIA Conference Scholarship?
The NDIA seeks to award at least one (1) scholarship per region, but reserves the right to add an additional award if the NDIA determines it is feasible.  Additional scholarships per region may be awarded at the discretion of the NDIA President.  The scholarship covers the NDIA conference registration fee only.  It does not include travel and hotel rental costs.
Who is eligible to apply for the NDIA Conference Scholarship?
Any NDIA member in good standing can apply for an NDIA Conference Scholarship.  A qualified applicant is one who has met the criteria for NDIA membership and whose dues are paid in full by the start of the conference.
Criteria and Application Guidelines:
Applicants must certify that they have pursued other funding options and can only attend the NDIA conference with the assistance of an NDIA Conference Scholarship.
The application will be reviewed by the NDIA Area Director within the region where the applicant is located, and the Area Director will then make a recommendation to the NDIA President.
Applicants will be screened based upon their demonstration of financial hardship.
Applicants must agree to volunteer for a minimum of two (2) hours during the conference to assist with registration, hosting, and/or reporting on a session.
With the application, applicants must provide a letter stating why s/he wants to attend, and how they will benefit from, the conference.
Applicants must certify that s/he plans to attend the entire conference for which s/he received the NDIA conference scholarship.
Please contact your NDIA Area Director for additional information.
To apply for a scholarship to an upcoming NDIA conference, read the NDIA Scholarship Information and Application Adobe Acrobat Form thoroughly, and then print a copy of the form.  Answer the questions on the form, and then, once the application is complete, send it to:
National Defender Investigators Association
PO Box 169
Kohler, WI 53044
FAX: 866-668-9858
ATTN: BEVERLY DAVIDSON, EXECUTIVE SECRETARY